A passenger van engineered for versatility.
With commercial passenger vans emerging as the fastest growing ground transportation segment, Forest River Van delivers the most versatile product in the market today. Whether you are transporting patients, hotel guests, commuters, or residents, the Forest River Van model offers a variety of flexible floor plans and seating configurations. With similar options as a small shuttle bus, this van is a cost-effective option when passenger capacity needs are 15 passengers or less. In addition, there are floor plan options for up to four wheelchairs, making it the ideal handicap-accessible wheelchair van for sale.
If you want to grow your transportation fleet quickly, vans are an excellent choice. They offer quality and versatility at a lower price than commercial buses. If you're considering a passenger van for sale, we encourage you to look at the Forest River Van.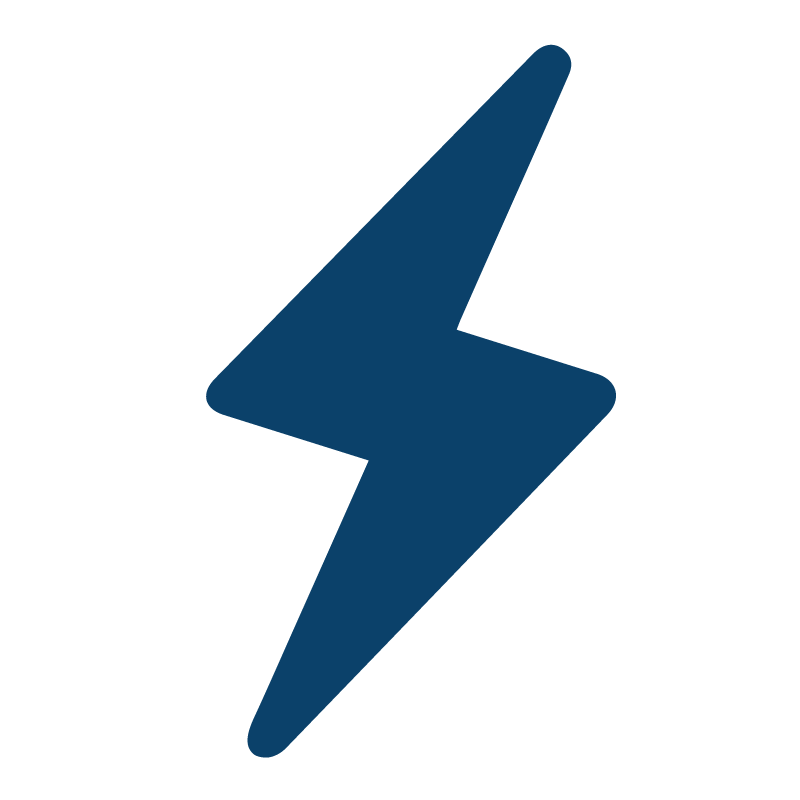 This model is offered in electric as well.
Standard Features and Upgrade Options
Unibody construction
Interior: Color-keyed OEM ABS (wagons models) aftermarket vacuum-formed ABS (cargo vans models)
Flooring: ¾" plywood with 14ga steel subflooring or smart floor aluminum floor system
Floor Covering: Gerflor Sirius transit flooring (graphite)
Seating: Freedman Go ES 3-point fixed, or ADA fold away level 1 upholstery
Wheelchair Lift: BraunAbility 34″ x 51″ 800 lbs. NL919-02 century wheelchair lifts – rear or side-mounted with ADA transmission interlock
Wheelchair Securement/Passenger Restraints: L Track- Q'Straint or AMF 30/20-retractable 4 pt with occupant lap and shoulder belts
Rear Air Conditioning and Heat: 18K BTU OEM rear AC/heat headliner vented (wagon models) ProAir rear ac/heat direct vented (cargo van models)
Interior Lighting: 3 double OEM dome (wagon models), 6 individual LED dome (cargo van models)
Running Boards and Steps: Driver door and full passenger side wide step tread
Egress Assist Bars: One passenger entry grab bar. B-pillar mounted 1.5″ stainless steel at side sliding door
Safety: 95dcb back-up alarm, 5lbs ABC fire extinguisher, 3 reflective road warning triangle, 16-unit first aid kit
Signage: Priority seating, international wheelchair access, emergency exit, no smoking
Mirrors: Power adjusting with lower convex lenses
Back-up Camera: In-dash OEM rearview camera system
Doors: Power door locks
Steering: Power steering with tilt and telescopic steering wheel
Speed Control: Speed-sensitive cruise control
10-speed automatic transmission
Batteries: Dual 750CCA batteries
Brakes: 4-wheel ABS disc brakes
Safety: Traction control- rollover avoidance
100% ADA and NHTSA compliant – Ford QVM upfitter
Aluminum modular floor system
Shift and step side lift
A & M transit style bus door
Front entry door
ABS interior with LED dome lights
Upgraded rear HVAC from 28K to 60K BTUs
Add on rear heaters from 6K to 18K BTUs
Freedman seat upgrades – armrests, grab handles recliners, map pockets
Additional grab bars, stanchions, and modesty panels
Interior camera systems
PA and 2-way radio prewire
1,000 lbs. / 37″ x 54″ upgraded wheelchair lifts
Luggage walls
LCD flat screen with DVD and HDMI
USB / 12-volt power outlets
110-volt power inverters
Accent and safety lighting
Woodgrain vinyl flooring
Additional safety equipment
Fast idle control
Wide passenger entry steps and running boards Backed by a 3 year / 60,000 km warranty.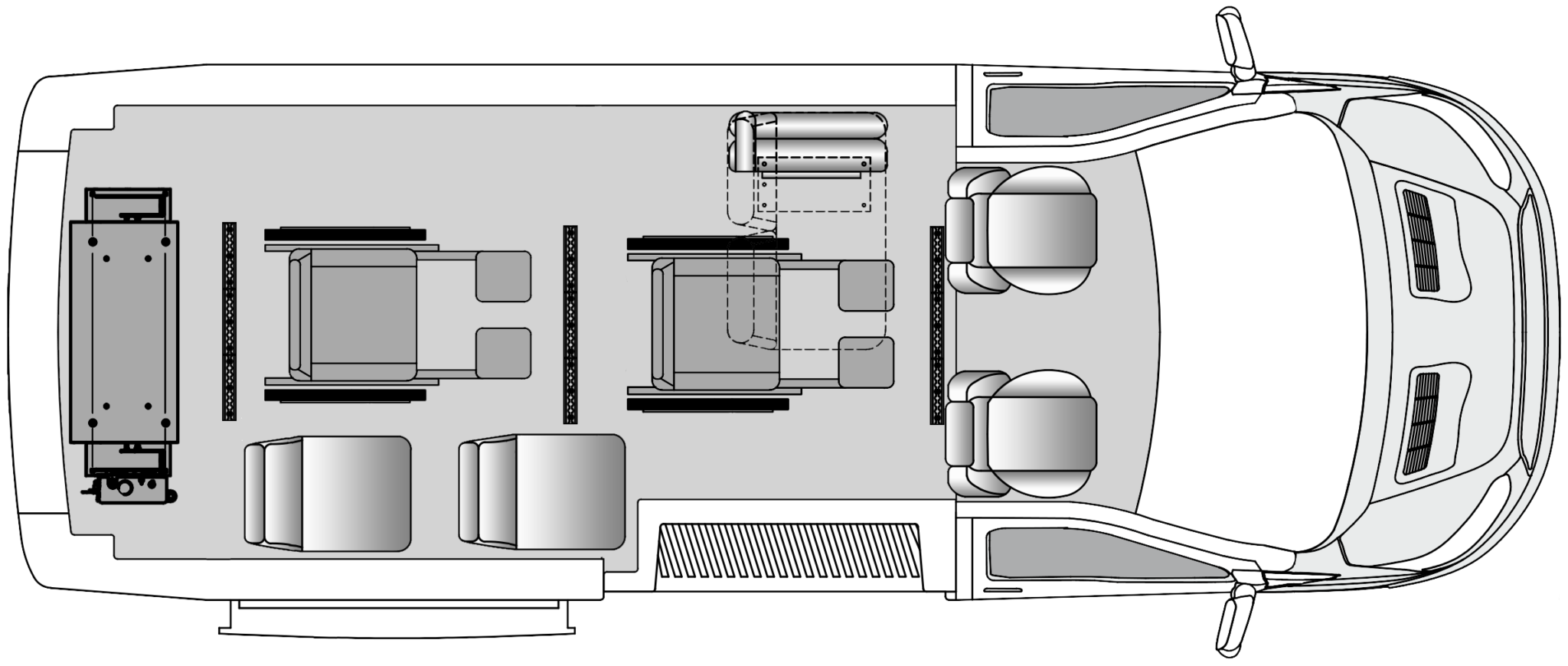 5 (3+2) passengers, 2 wheelchairs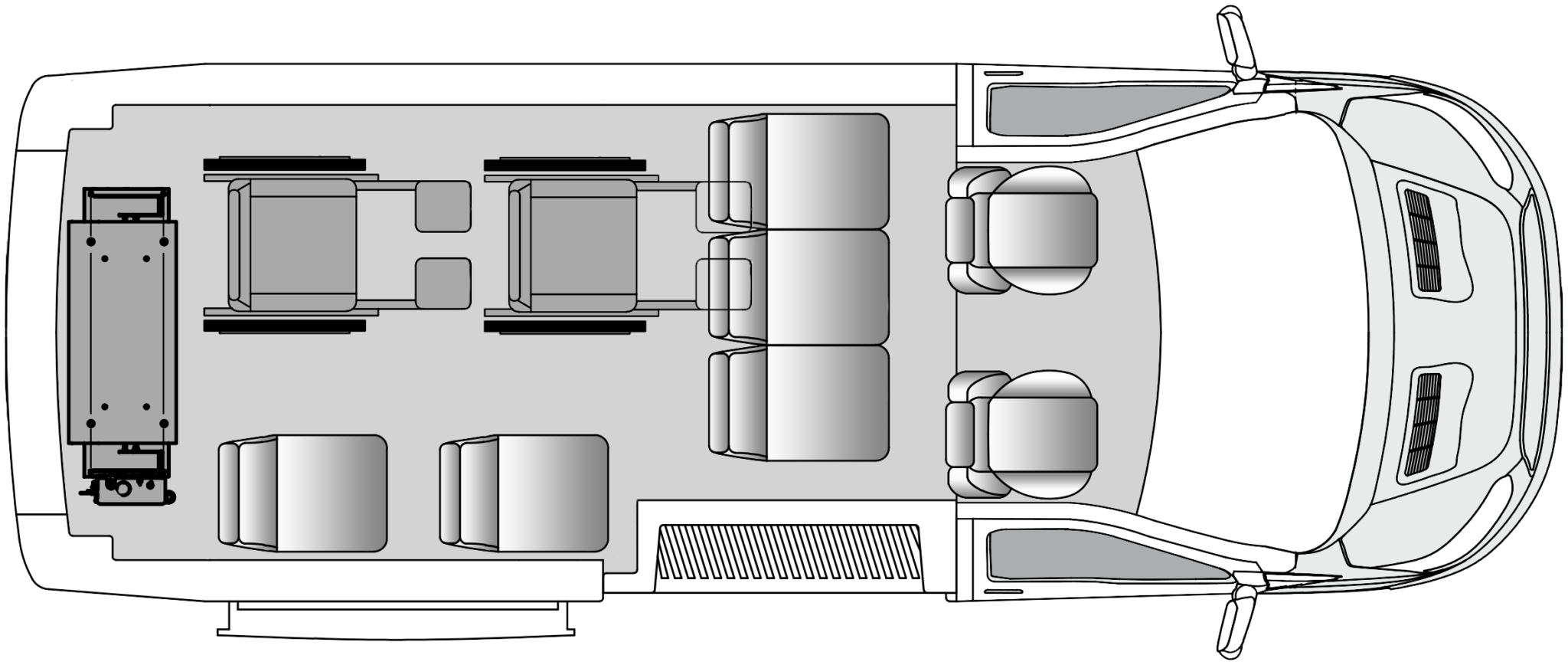 6 passengers, 2 wheelchairs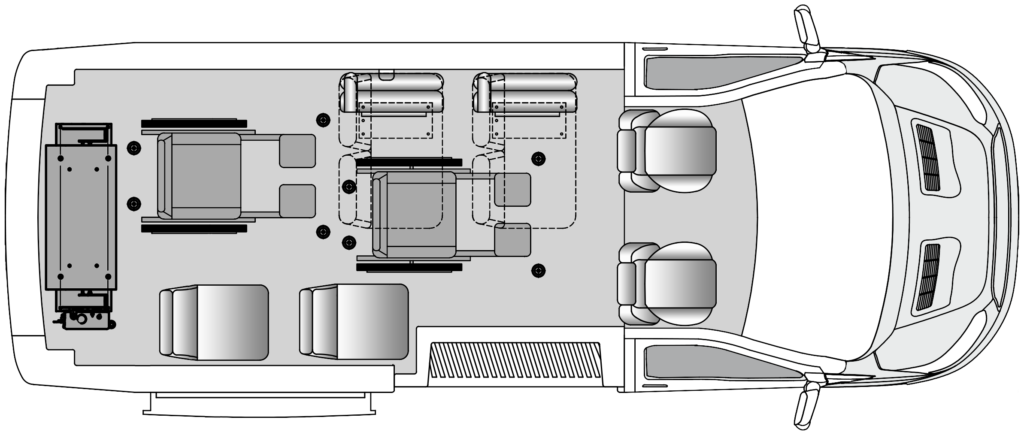 7 (3+4) passengers, 2 wheelchairs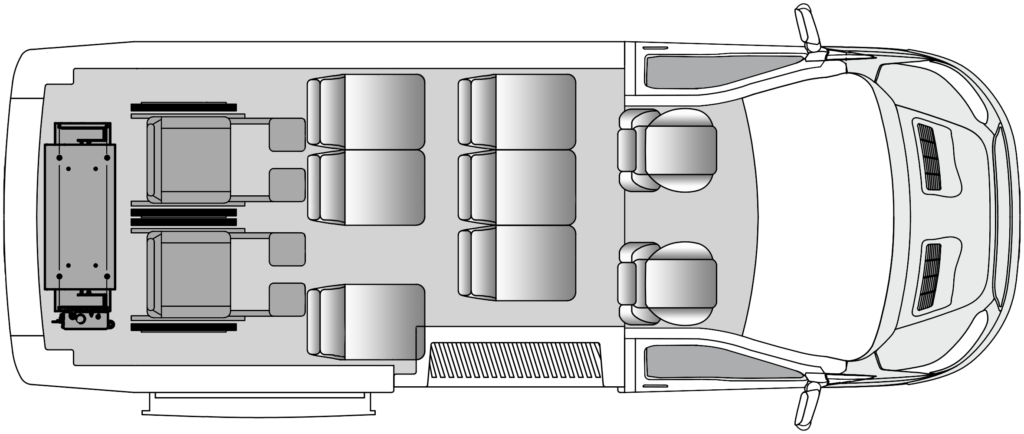 7 passengers, 2 wheelchairs

7 passengers, 2 wheelchairs
Base Model Specifications

  Scroll left to view the full table.
| | | | |
| --- | --- | --- | --- |
| Spec field / Floor Plan: | 18.15′ | 20″ | 22″ |
| Seating capacity* | Up to 15 | Up to 15 | Up to 15 |
| Type of Floor | High-Floor | High-Floor | High-Floor |
| Make | Forest River | Forest River | Forest River |
| Model | Forest River Van | Forest River Van | Forest River Van |
| Type | Van | Van | Van |
| Chassis | Ford T 150 Mid Roof | Ford T350 Mid Roof | Ford T350 EL High Roof |
| Fuel Type** | Gasoline | Gasoline | Gasoline |
| Engine | 3.5L V-6 PDFI | 3.5L V-6 PDFI | 3.5L V-6 PDFI |
| A/C | OEM HVAC System | OEM HVAC System | OEM HVAC System |
| BTU | 28,000 | 28,000 | 28,000 |
| Overall Length | 217.8″ | 235.5″ | 263.9″ |
| Wheelbase | 130″ | 148″ | 148″ |
| GVWR (lb) | From 8,550 to 10,400 | From 8,550 to 10,400 | From 8,550 to 10,400 |
| Overall Width | 81.3″ | 81.3″ | 81.3″ |
| Overall Height | 98.8″ | 99.2″ | 107.7″ |
| Interior Width | 69.6″ | 69.6″ | 69.6″ |
| Warranty | 3 years / 60,000 km | 3 years / 60,000 km | 3 years / 60,000 km |
*All passenger capacities are references and subject to final weight analysis. Various passenger configurations are available.
**Other fuel options available: Electric or Hybrid